Take a peek what was included in April's Japanese subscription box. So many Japanese treats!
This month's box was a perfect balance of sweetness and salty snacks! We here at the Japan Candy Box community care center especially liked the Milky Peko X Sanrio Chocolates, Meiji Panda Yan Yan Biscuit Sticks, and Morinaga Otato Salty Crackers. That's a meal in itself! Here is a full list of the candies and snacks included in the April Japan Candy Box: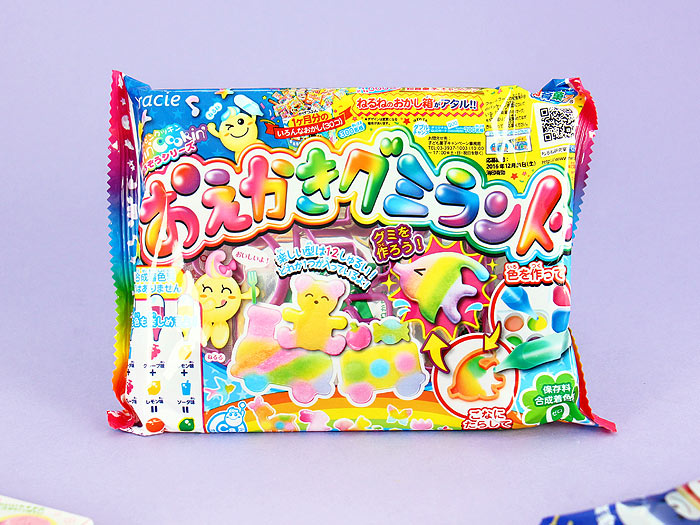 ▲ Popin' Cookin' Oekaki Gummy Land DIY Kit is a do-it-yourself kit for creating your own multi-colored soda-flavored gummies. Each kit comes with a different set of molds. By mixing water and the included ingredients, you can stir and shape this kit into colorful gummy candies. Here is a tutorial!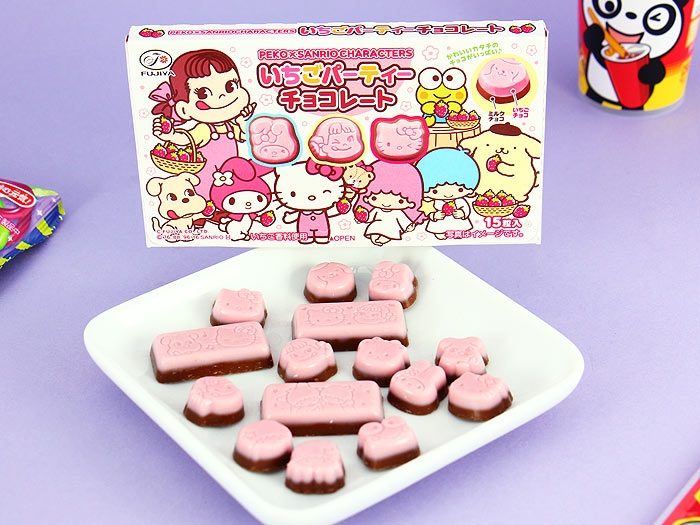 ▲ Fujiya character Peko and Hello Kitty are best friends! These Fujiya Milky Peko X Sanrio Chocolates are half milk chocolate and half pastel pink strawberry chocolate, and they have all your favorite Sanrio characters in them: My Melody, Hello Kitty, Little Twin Stars… So cute!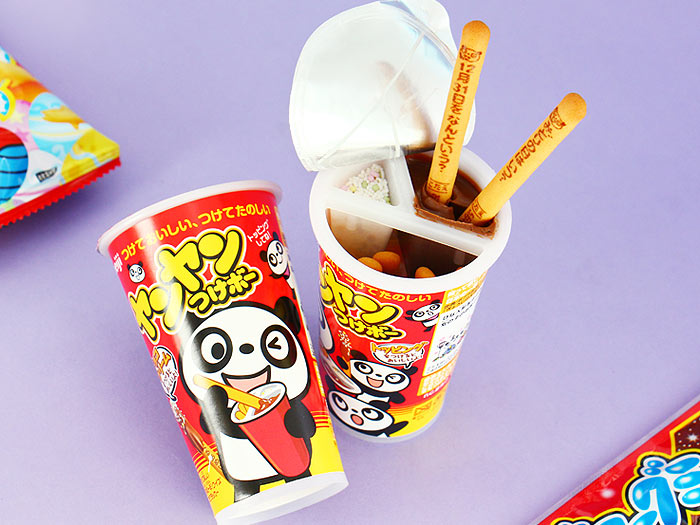 ▲ Meiji's Meiji Panda Yan Yan Biscuit Sticks crispy biscuit sticks that you can dip in a delicious chocolate flavored cream and candy powder. Each stick is printed with Japanese words and cute pandas! They could also be called do-it-yourself Pocky. First, dip the sticks in chocolate and then in cover them in sprinkles.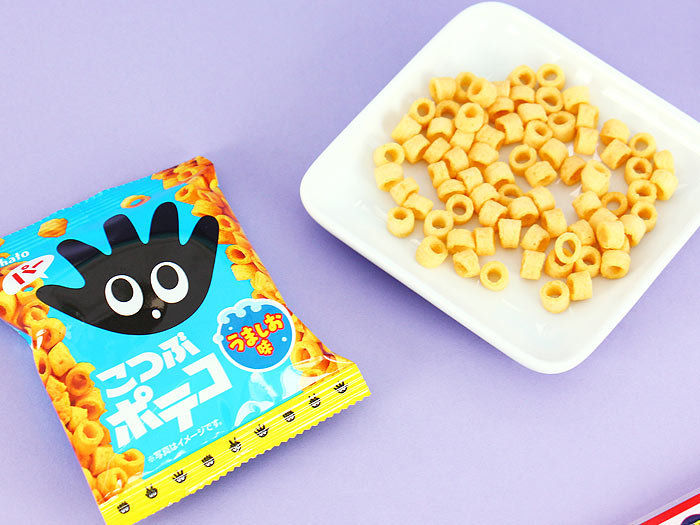 ▲ These Tohato Poteko Potato Rings have been loved by both children and adults in Japan. The secret to the tastiness is the perfect level of saltiness and the crunchy texture which may be the reason that you sometimes just crave them.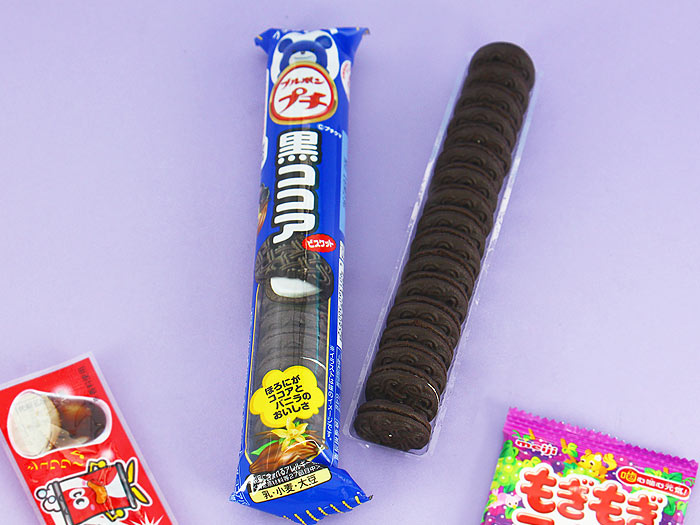 ▲ These lovely bite-sized Petit Black Cocoa & Vanilla Cream Cookies by Bourbon are full of creamy vanilla and rich cocoa flavor!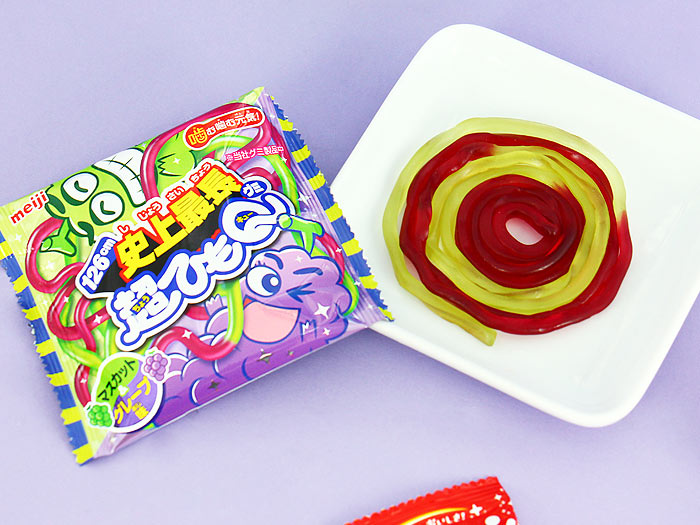 ▲ This Meiji Cho Himo Q Super Long Gummy String is the shape of a long string which means you can slurp it down like spaghetti. The gummy comes in two yummy flavors muscat and regular grape; making the gummy itself dual colored and fun.
▲ Morinaga Otato Salty Crackers are iconic Japanese confections and Japan's equivalent for animal crackers. These lovely bite-sized crackers have a delicious salty taste and they are shaped as various animals, stars, and egg shapes!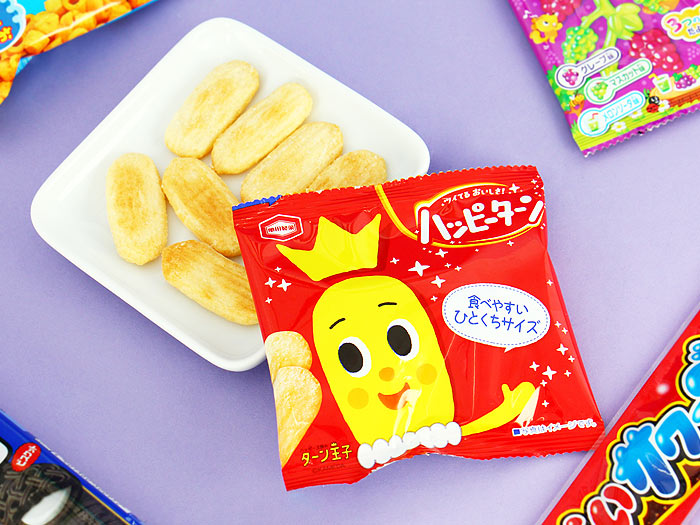 ▲ These Kameda Seika Happy Turn Rice Crackers are made of rice and they have a salty taste to them. They make a perfect yummy snack to take with you everywhere; take them to picnics, parties, or to the beach!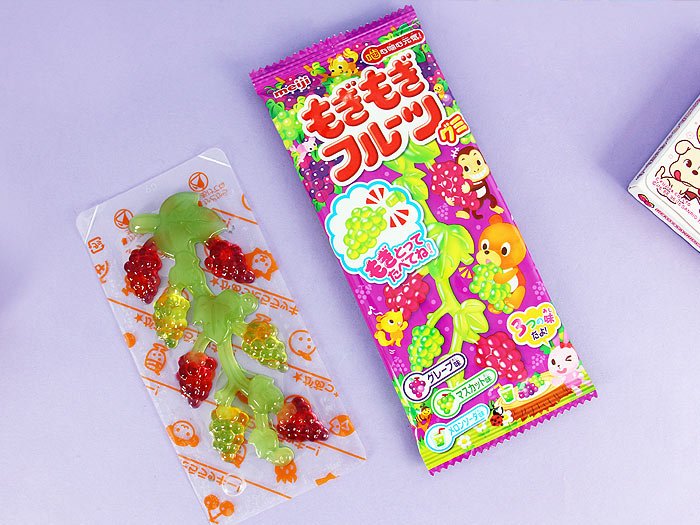 ▲ With this Meiji Mogi Mogi Grape Vine Gummy, it feels like you are truly picking grapes! The candy in the package is shaped like a grapevine with grapes and leaves. You can taste grape soda in the leaves, and muscat and purple grapes in the grape gummies.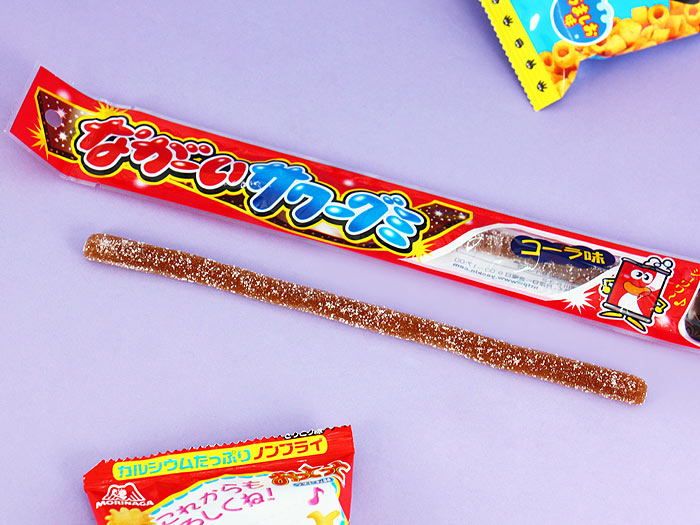 ▲ This Yaokin Long Cola Gummy is shaped like a long soft stick. The gummy comes in a yummy cola flavor with a sour edge as we all know how much the Japanese love their sour candies!
Which is your favorite item? Tell us by leaving us a comment on Facebook or Instagram. We'd love to hear your feedback!
Japan Candy Box delivers fun & tasty Japanese snacks directly from Tokyo to your door! Discover Japan through exclusive snacks, traditional Japanese treats, and Japanese candy flavors not available anywhere else!