Hello sweeties! This Popin' Cookin' Tanoshii Omatsuriyasan DIY Candy Kit from Kracie was included in the August 2017 Japan box. Follow this tutorial to create your own Japanese Matsuri festival treats from candy!
▲ This DIY candy set includes all the ingredients to make your yummy snack store – 1 mold, 1 spoon, 1 bag of candy for making corn, 5 powder bags
(potato powder, banana powder, candy apple powder, corn powder and chocolate sauce powder), 1 pack of sprinkles and 5 wooden sticks.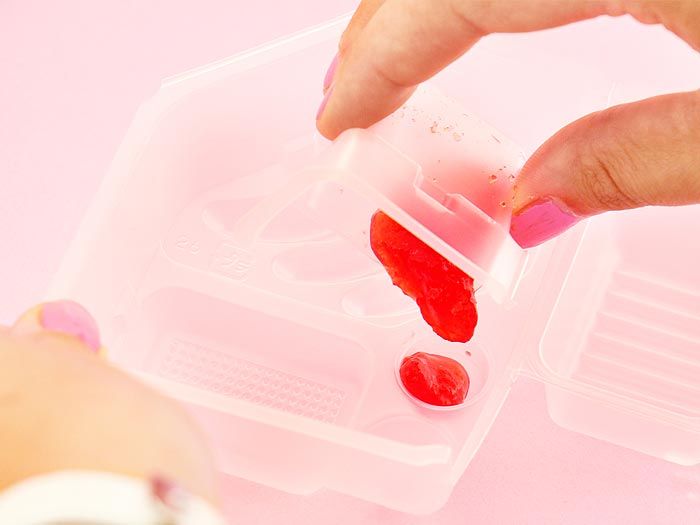 ▲ Carefully cut the big mold into parts so that you end up with smaller molds, a water measurement tray, and mixing trays as shown on the package.
Cut the plastic packaging with scissors to make the snack stand, French fries packaging, and cutting board for the French fries and corn.
At each step, use the triangle mold to measure the water. In the mixing tray, carefully stir the contents of the red apple powder bag with 2 parts of water.
Then pour the mixture into the round compartments of the mold.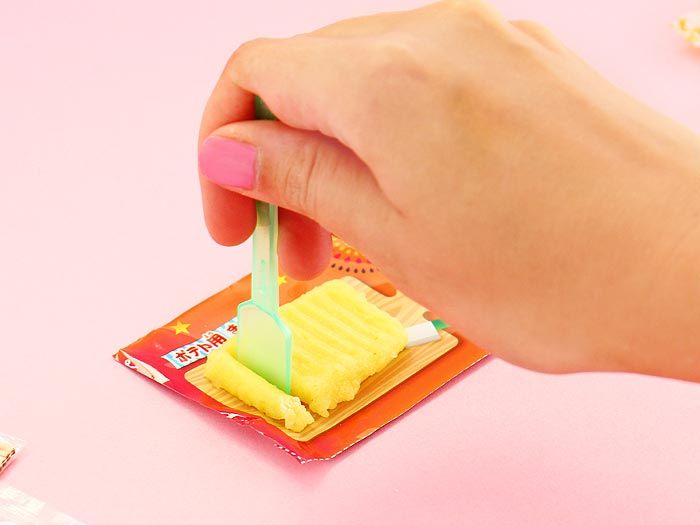 ▲ Mix the green potato powder bag with 1 part of water. Stir it and press it in the mold. Then take the French fries mixture out of the mold and put it on the cutting board you made out of the plastic packaging. Carefully cut your French fries with the spoon.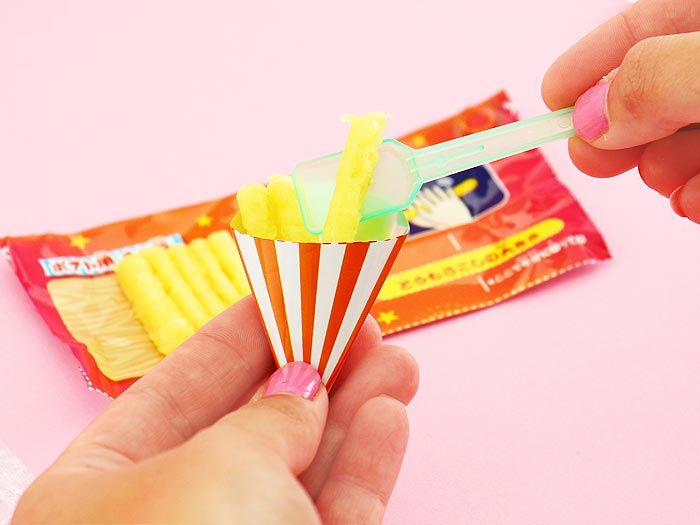 ▲ Next, remove the French fries from the cutting board and put them in the cute packaging you made from the plastic wrap.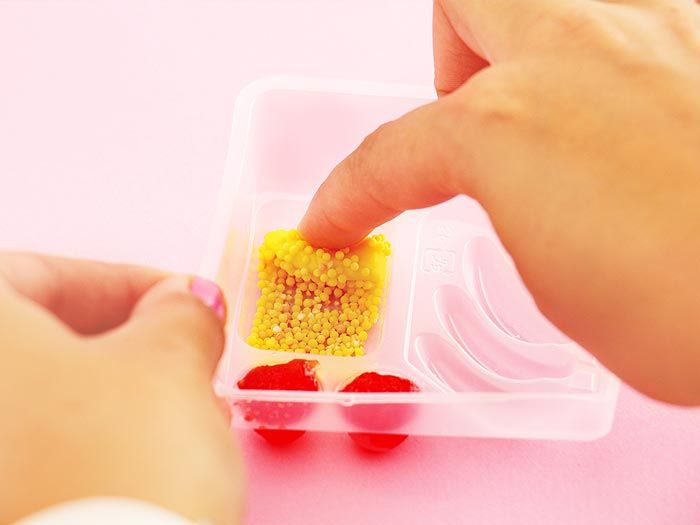 ▲ Next, take the blue candy bag and roll the yellow candy into a long roll. Cut it in the middle. Pour the contents of the corn powder bag into the mold and roll the yellow candy in them to make corn.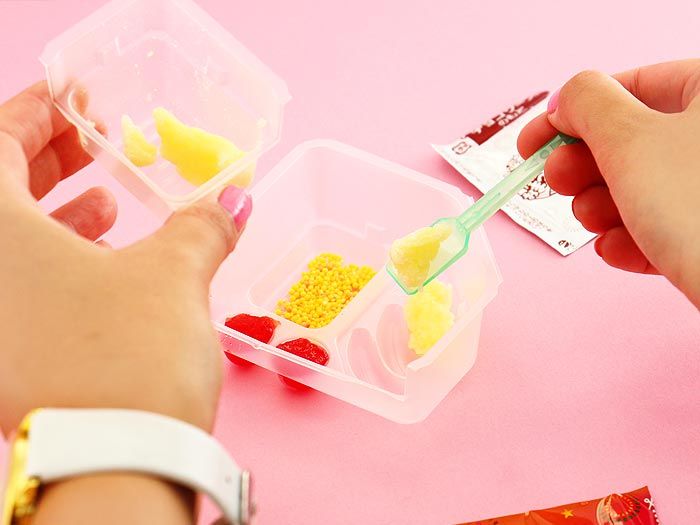 ▲ Mix the banana powder bag with two parts of water. Put the mixture into the banana-shaped part of the mold.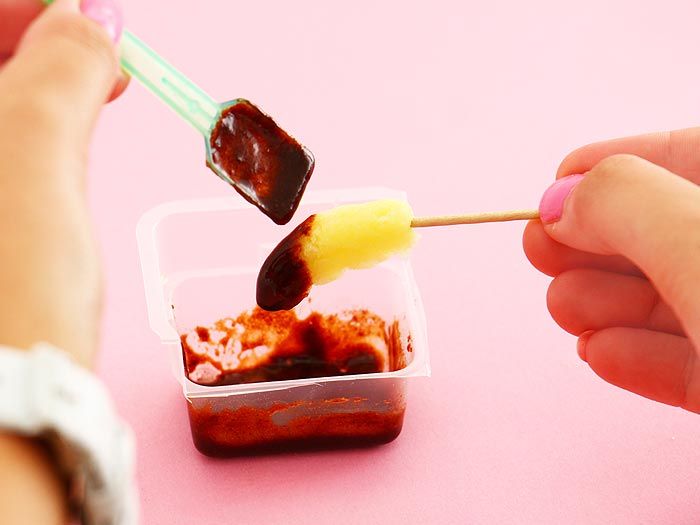 ▲ Mix the chocolate powder bag with 1 part of water. Remove the bananas from the mold and put them on the wooden sticks. Then cover them with the chocolate frosty!
Add sprinkles to maximize the yumminess! Next, remove the candy apples from the mold and put them on the wooden sticks as well.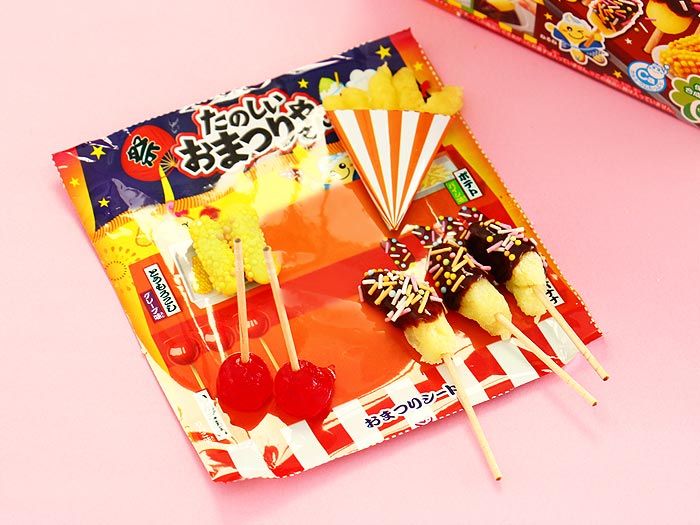 ▲ Only the best part left – enjoying the treats from your own special Matsuri snack store!
Japan Candy Box delivers fun & tasty Japanese snacks directly from Tokyo to your door! Discover Japan through exclusive snacks, traditional Japanese treats, and Japanese candy flavors not available anywhere else!