CUSTOMER REVIEWS
These are honest testimonials from verified Japan Candy Box subscribers. Find out what others say about our monthly Japanese snack box!
4.82
/ 5 stars - 447 verified reviews
The ramune biscuits were my fav I recently had the pleasure of experiencing the Japan Summer Candy Box, and I must say it was an absolute delight! From the moment I opened the box, I was transported to the vibrant and colorful world of Japanese summer treats. I was greeted by a mouthwatering array of candies, each with its own unique flavor and charm. I personally loved the watermelon chews they were juicy and refreshing. I think this box gives you great value for your money and is perfect for any Japan/ Japanese candy lover. I would love to send these boxes to my relatives so that they can get their own taste of Japan
I was thrilled and excited when I opened the box. Shipment was fast and content of box was perfect mix to try little peace of Japan.
Thank you I absolutely loved my box! I've never had candy or any food from Japan before and my first box came with a great assortment of both salty and sweet goodies! Everything tasted amazing! I can't wait to get another box! :)

Just received my Japan Candy Box and I couldn't be happier! All the snacks were delicious and had such cute packaging! I really liked that the box also proposed salty snacks, allowing me to try different things. If you're a fan of Japanese snacks like me, I cannot recommend more Japan Candy Box!
I was happy to receive my first Japan Candy Box recently, all of the items contained where delicious and things I've never tried before! I would highly recommend to anyone who loves candy and snacks and wants to try something different.
Isabel Panganiban
1 month ago
I love the range of snacks offered in August's Japan Candy Box. No matter what your preferences are when it comes to taste, there's definitely something for everybody! I personally like fruity snacks and candy, so I particularly enjoyed the lemon Picola, ramune candy, and watermelon Hi-Chew. Additionally, the design of the leaflet and the illustrations throughout are extremely cute. The items themselves seem to have been uniquely curated, and I can't wait try the rest of them. Highly recommend for those interested in receiving a great amount of awesome Japanese snacks every month!

The candy and snacks have been ABSOLUTELY DELICIOUS!!!!!
I've yet to eat everything but I have love everything that I have eaten.
I've been subscribed to Japan Candy Box for years! But not once had I ever ordered anything so when an email came in and I was sorting through them I decided to go for it and order;
and I'm glad I did! 😁👌🏻♥️
Awesome snacks, super speedy shipping, and super secure packing! Everything came perfectly and I can't wait for my next :)

This box was amazing!! I loved the variety and the booklet it came with that tells you what the snacks are. Everything was so yummy!!

I just received my first Japan Candy Box and I LOVE it. It was so fun to test a vast variety of different candies and it was an incredible experience. My favourite one is the Picola Setouchi Lemon Biscuit rolls. I would totally recommend it for the amount of candies in the box, the quality and the variety of them. So many different favors, styles and it's such a treat. Be ready for a wonderful experience! 10/10 recommend Japan Candy Box!! So affordable, free shipping – what's not to love! And more than that, the boxes are so incredible and impressive, you can tell there's genuine thought and effort put into them. I really liked the box! There's different things and it's really cute packaged all together and incluedes anime things

a fun and unforgettable tasty experience! I just love the japan candy box

It's just perfect!
Everything is so cute and special!! Thank u

I LOVED IT! Everything was perfect and tasty. I totally recommend Japan Candy Box. Pokemon lamen made me scream because SO CUTE. And SO TASTY!!! I'm in love
Japan candy box was nice enough to gift me a monthly box and it was delicious! The snacks were all so yummy and the packaging was so cute!! Would definitely try and order more boxes from them in the future!
Receiving the JapanBox was such a lovely experience! I really like the flow from getting the leaflet that explains the snacks and taking out each snack from the box. It was a great variety of snacks from sweet to savory and old favorites with new twists. I really enjoy all the matcha-flavored snacks such as the matcha-flavored KitKat and matcha-flavored Black Thunder (chocolate). 100% recommend to anyone who wants to try Japanese snacks!! ❤️
CHOOSE YOUR PLAN
Choose the plan you like the most, place your order, and your first Japanese snack box will ship in a few days!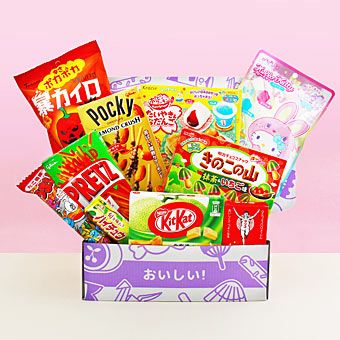 MONTHLY PLAN
US$ 29.90 /mo
10 exclusive Japanese treats every month
FREE Shipping Worldwide
Cancel anytime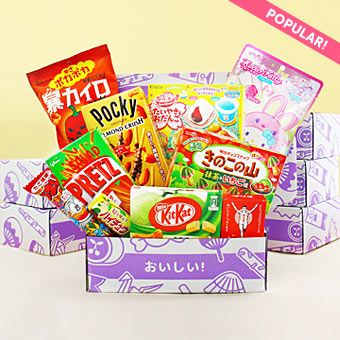 6 MONTH PLAN
US$ 27.90 /mo
10 fun Japanese treats every month
FREE Shipping Worldwide
You Save US$ 12!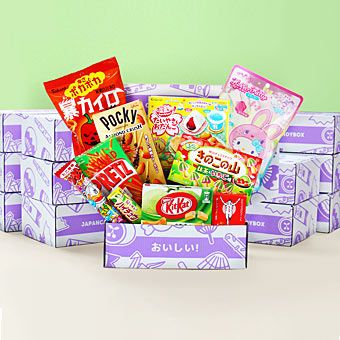 12 MONTH PLAN
US$ 24.90 /mo
10 fun Japanese treats every month
FREE Shipping Worldwide
You Save US$ 60!