CUSTOMER REVIEWS
These are honest testimonials from verified Japan Candy Box subscribers. Find out what others say about our monthly Japanese snack box!
4.81
/ 5 stars - 390 verified reviews Loved the portions and liked everything.
Loved my first box.so many things to try.can't wait for my next one. The site is easy to navigate and the package came without any excessive delays. I wanted a one- time delivery, so i was able to cancel my subscription when i wanted without any issue. Plus, everything was super tasty!
I liked most of what was in the box I got. Some I didn't like as much but it was interesting to try. I liked the Black Thunder the most. It just wasn't for me sadly. Sweet candy isn't for me but it definitely was worth a try! I recommend trying it at least for 1 month to see if it's something you like, and if you do – resubscribe 😊
Rohith Abraham
10 months ago
Awesome variety of snacks, loved the demon slayer related goodies.

So excited to receive my Japan Candy Box today! The Strawberry Milk Kit Kat was delicious!
Amanda Tranfaglia
10 months ago
Awesome! My daughter loves her snack box of the month. I've made a few orders before and they actually shipped very fast. 😊
Mackenzie Turman
11 months ago
I Loved the leaflet, it was very cute.
The snack I enjoyed the most was the savory demon slayer snack. All of the snacks were pretty good.
My son does not favor chocolate. I would want the box to have more variety of less chocolate snacks. It would be nice if we could pick what type of candy is favored before the box is shipped. Presentation was nice and the brochure detailing each candy is neat!

An unique and fun experience! Would recommend as a cute birthday or other occasion gift for Japan enthusiasts :)
It was delivered to Croatia after cca 7 weeks.
I purchased the 6 month service for my son for Xmas. He loved it! My family was excited to see all the different snacks! We will be meeting each month to see what he gets and share the snacks! Thank you sooo much!!
I ordered a box on November 29th, and my son in the USA received his gift on December 23rd. Since I ordered it on Cyber Monday it included a special bag of Christmas candy. My son facetimed me while he opened his gift. The package was very neatly packed, and he enjoyed reading about each item in the colorful pamphlet included. I had made a couple emails to the company before his package arrived, and received swift replies. Very professional company. Fun experience for those who want to try something new. Thank you.
I loved my first box so much that I ordered a subscription for my friend as a Christmas present. I love it so much that I have literally not stop talking about it since I receive my first box.
Michelle Sanchez
12 months ago
Amazing box! I got mine before Christmas and I will open on Christmas Day. Very excited to see the goodies inside. It was so fun to receive our first Japan Candy Box. Tracking was helpful. The presentation was great and all of the snacks were in great condition. Some of the snacks were delicious – would want again and others were just interesting, unlike anything I've had before. All in all I would recommend this to anyone interested in a fun culinary experience. Looking forward to next time!!
Kara Saavedra
12 months ago
Great Christmas present for my boyfriend who loves different candies from all over, so excited for him to open this on Christmas morning!
I was satisfied and happy. It was a smaller sized crate, but it was a good price and had nice, unique items. Some of the candies were easy to share, too, which I love about a snack crate. I even shared some with students at the school I work at.
Great candy but took FOREVER to arrive Such a fun way to experience seasonal treats from Japan! We loved our first box and look forward to receiving the next one!
The flavours in my box were a subtle sweetness yet full of flavour.
The box is adorable and there were plenty of snacks to try, a lovely treat to share with my children.
CHOOSE YOUR PLAN
Choose the plan you like the most, place your order, and your first Japanese snack box will ship in a few days!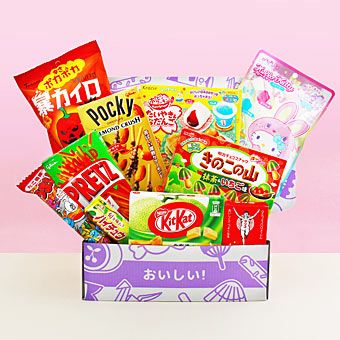 MONTHLY PLAN
US$ 29.90 /mo
10 exclusive Japanese treats every month
FREE Shipping Worldwide
Cancel anytime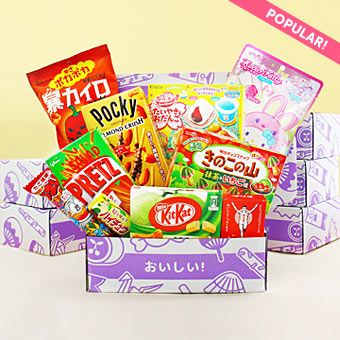 6 MONTH PLAN
US$ 27.90 /mo
10 fun Japanese treats every month
FREE Shipping Worldwide
You Save US$ 12!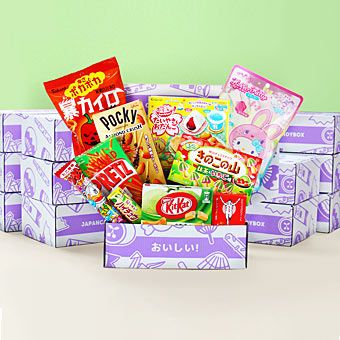 12 MONTH PLAN
US$ 24.90 /mo
10 fun Japanese treats every month
FREE Shipping Worldwide
You Save US$ 60!