CUSTOMER REVIEWS
These are honest testimonials from verified Japan Candy Box subscribers. Find out what others say about our monthly Japanese snack box!
4.82
/ 5 stars - 447 verified reviews
Juan Ignacio Carrera
3 months ago
The box was in regular conditions. All the content was as I expected. I appreciate the explications of each item in english.

The box was amazing. There was something for everyone in the box. The candy is delicious! I loved it, my husband loved it, even our cat loved it. Can't wait to receive more boxes!
I am very happy with the order, the delivery was fast and the products came intact. All of the candy was great, unique and tasty! Since I ordered it as a gift, everyone loved it. I will order again for sure!

We received our box the other day and are absolutely blown away by how many different products are inside. We expected about 5 but there's much more than that! A combination of sweet and savoury which makes the perfect box. Japanese blues kicking in big time!

I received the pokemon/Mario box.
I am extremely happy with it. The chocolate and chocolate cookies are amazing. I could stand a whole bag of Those. The chocolate wafers Melt in your mouth, the things that say they taste like cola are amazingly Like cola.
I love the Flyer That you get to read what you got in the box. It's so fun to get.
We're all excited for the next one.
Enjoy the variety of sweets. Bring back the days when I was child in Japan. Waiting for the next one to arrive already I enjoyed the box with various different candies. There are many different snack boxes themed Japan, but I like the Japan Candy Box send the actual snack brands that they sell in Japan, instead of original one. It's hard not to eat everything in a day. Thank you!
The themed box was cute and with many sweets to try 🥰
Best selection of Japanese candy and snacks! Variety of things I would want to try upon visiting Japan. The banana caramel Kit Kat was so good, and the pizza flavored chips were my favorite! Definitely recommend you try it for yourself!
Really fun experience, i reccomend you all to buy and try some Japan snacks. Greetings!
Janet salomone
4 months ago
I purchased this for my son's girlfriend for her birthday. she liked it, some of the flavors were slightly out there but the bannana kit kat was her favorite. she says she can't wait to see what's in store.

Exactly what I was hopping for, my first Sakura thematic and flavored food, I'm so happy right now!! love it!!
I think it's a good size box for $24-29! I really like the snack choices. It has a good balance of salty and sweet.
I think a great addition would to have a small gift inside like chopsticks, magnet or a postcard so customers can keep something tangible after they are done with the snacks.
Thank you for the box!
Loved the box! It was sakura themed and I really liked the snacks. Thank you!
Lucas Hoffman
5 months ago
I very much enjoyed my candy box! It came with a great variety of snacks and foods that I wouldn't have or even tried before. I found some new snacks I really enjoy.
I enjoyed the first box. Most of the snacks were very good and ones I had never had before. I did not like the chips so I would prefer less of those! But otherwise I enjoyed it and look forward to future boxes.
This was the first candy box I have ever bought and it was so cute, the treats were amazing, and my fave was the Peach Kitkat, the small box was nice too and It was small enough for me to take camping with me, 10/10 would recommend. The price was also really affordable for me so thanks!
Lovely box filled with tasty Japanese goodies!
Makes a wonderful little gift, even for yourself!
Very satisfying! Each treats were exciting. I especially loved how there are seasonal/limited snacks. Thank you so much for such a wonderful experience.
I ordered the box for my 11 year old (Easter surprise). She really enjoys tasting new goodies – her only disapointment is there are no products with an anime character, hence the 4 stars.
CHOOSE YOUR PLAN
Choose the plan you like the most, place your order, and your first Japanese snack box will ship in a few days!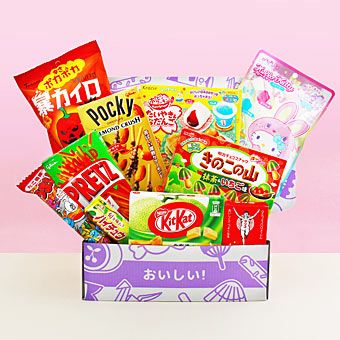 MONTHLY PLAN
US$ 29.90 /mo
10 exclusive Japanese treats every month
FREE Shipping Worldwide
Cancel anytime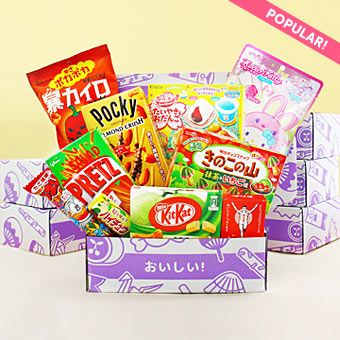 6 MONTH PLAN
US$ 27.90 /mo
10 fun Japanese treats every month
FREE Shipping Worldwide
You Save US$ 12!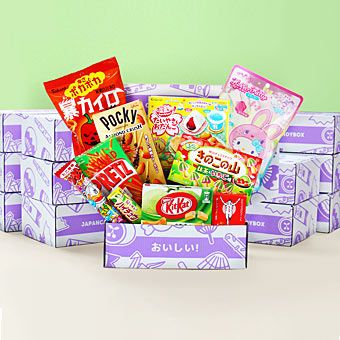 12 MONTH PLAN
US$ 24.90 /mo
10 fun Japanese treats every month
FREE Shipping Worldwide
You Save US$ 60!